Cruel Intentions: The '90s Musical
Age recommendation 15+ recommended
Trigger warnings This production contains haze, loud noises, flashing lights and strobe. Strong language, and mature themes including but not limited to: explicit sexual language, abuse, suicide, accidental death, question of consent. Audience discretion is advised.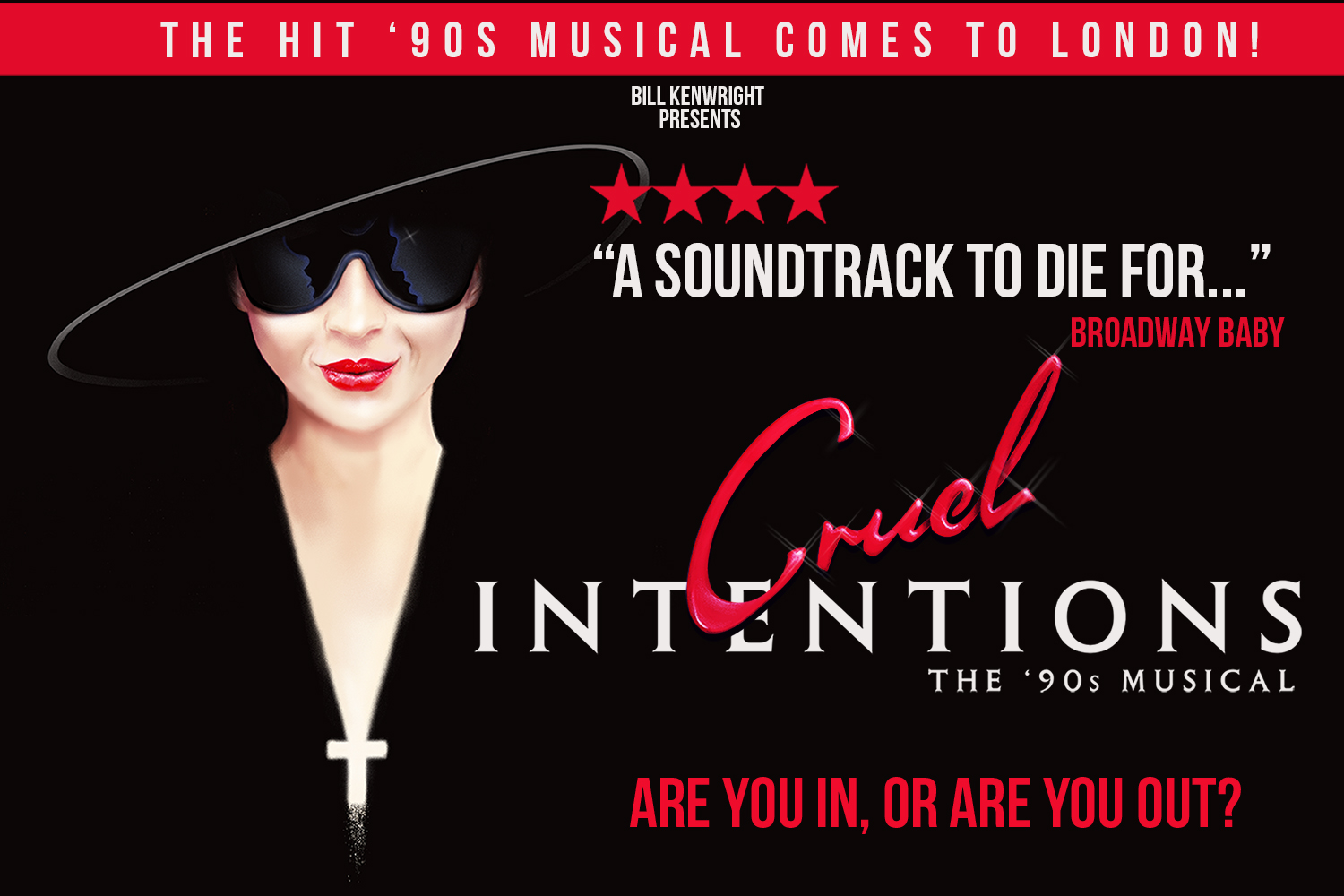 The iconic movie, set to the greatest songs of the '90s including
Britney Spears
Boyz II Men
Christina Aguilera
TLC
R.E.M.
Ace of Base




Natalie Imbruglia




The Verve




*NSYNC




and many more!
A must-see experience in New York and Los Angeles and following a sold-out, critically acclaimed production in the Assembly Palais du Variété spiegeltent at the 2019 Edinburgh Festival Fringe, Cruel Intentions: The '90s Musical, from the producers of smash hit Heathers the Musical, finally arrives in London.

Step-siblings Sebastian Valmont and Kathryn Merteuil, manipulative monsters flushed with their own sexual prowess, engage in a cruel bet: Kathryn goads Sebastian into attempting to seduce Annette Hargrove, the headmaster's virtuous daughter.
Weaving a web of secrets and temptation, as the two set out to destroy an innocent girl — and anyone who gets in their way — their vengeful crusade wreaks havoc on the students at their exclusive Manhattan high school and the diabolical duo become entangled in their own web of deception and unexpected romance, with explosive results…
"This show is genius. Saucy, sexy, sassy and sultry!"- The Scottish Sun
"Oh boy it's a fun ride! An unstoppable teen romp you can't help falling for. Epic tunes, a riot!"-  To Do List
"Brilliant show that must come to London because I simply have to see it again… and again!"-  West End Wilma
On the 25th anniversary of the hit film Cruel Intentions starring Reese Witherspoon, Ryan Phillippe, Sarah Michelle Gellar and Selma Blair and inspired by Les Liaisons Dangereuses, Cruel Intentions: The '90s Musical is a wild nostalgic throwback laced with a soundtrack of the greatest '90s pop classics including Losing My Religion, Torn, The Sign, No Scrubs, Genie in a Bottle, I'll Make Love To You, Bye Bye Bye, Sometimes and, of course, Bittersweet Symphony. 
"A soundtrack to die for…" – Broadway Baby
"A deliciously dark romp with unexpectedly hilarious moments"

 – Edinburgh Guide
"The tracks are wittily woven into the narrative… laugh-out-loud funny"

 – Mail on Sunday
Created by Jordan Ross, Lindsey Rosin and Roger Kumble  
Based on the original hit film by Roger Kumble  
Originally produced by Eva Price  
  
Director: Jonathan O'Boyle 
Choreographer/Associate Director: Gary Lloyd 
This production continues to support the new writing development fund at The Other Palace. 50p from each ticket sold on all future productions in the main house, will be allocated to a ringfenced fund specifically to support the development of new writing and emerging playwrights. 
Full details of the first open call and details on how to apply will be announced later this year. See for more information here.