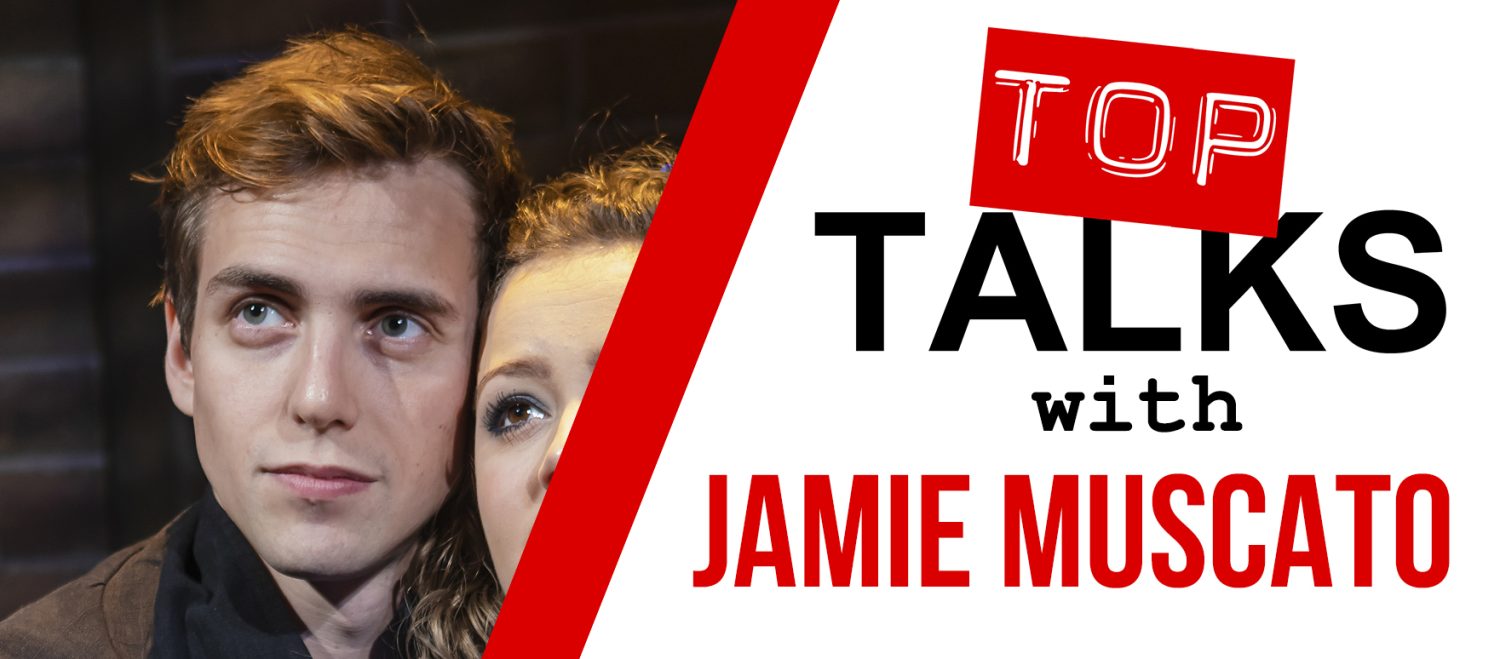 #TOPTalks with Jamie Muscato
initially posted on 3 August, 2018
We spoke with Jamie Muscato, whose credits include Heathers, Bend It Like Beckham, ONCE in Concert, Moulin Rouge. We  discussed with Jamie what keeps the development of Heathers from workshop to full production and how he taps into the characters he played.
From @sjackson92_: What was the experience like taking JD from The Other Palace Studio workshop to the full production? What has been the most exciting part of developing the musical and role? 
Jamie: It was great! I got to have a year of JD just ticking away in the back of my mind so when I got to into rehearsals I felt like I'd got a real head start mentally. Taking anything from a workshop stage to a full production is always very exciting. Heathers was doubly exciting because of the amazing fan base it has. Andy (Herr Director) always referred to the Heathers audience as the 'fifth Beatle' because they're such an important influence in every performance. 
From @ELLSVM: Your performance of JD is phenomenal but he's such a frightening person – what was/is your process to get into JD's headspace?
Jamie: It sounds simple, but I just try to imagine what he'd be thinking/feeling at that time and try to emulate that. He's isolated and cynical and angry at the world, his mum died when he was young and his dad actively dislikes him. He grew up being shunted between small town schools all across America and has seen that the individual school ecosystems are actually all the same; bored, disenfranchised kids who love to hate each other and apathetic adults who couldn't give a sh!t about the youth they're supposed to be nurturing.
JD then meets Veronica and things start to change thing for him as he begins to feel, but as he's never had love or empathy shown towards him he hasn't developed the capacity to show it to anyone else in a healthy way.
There are real people in the real world who've experienced these things so that's the headspace I try to tap into. 
You've now been in a few movie adaptations, including Heathers and Big Fish – do you find you take a lot of inspiration from the original films and how to you make the character your own?
Jamie: Sort of. I make sure I've seen the source material so I know the 'world' it inhabits but hopefully, as was the case with Big Fish and Heathers, everything you need is on the page. I research anything I'm unsure of and try to make sure I understand why the character does and says everything that they do, then during rehearsals the character starts to emerge and hopefully keeps developing and evolving though the run. 
From alexroomie123: If you could revisit one of your past roles, which one would it be and why?
Jamie: Maybe Eddie from Dogfight, he's another tortured soul which are always fun to play. I loved everything about doing that show, and I got to work with Evening Standard Emerging Talent award winner Laura Jane Matthewson!
Jodie Steel mentioned in her TOPTalks that she always makes sure to say hi to you before Heathers starts. Do you have any pre-show rituals? What is the last thing you do before you step out on stage?
Jamie: I'm the last person on stage so I have more time to get ready and sometimes cast pop in to visit me before they go on. Jodie usually comes to see me for a bit unless she's running late (which she usually is). I usually have a shower and brush my teeth etc. before a show. It's not really a ritual, I just don't want to smell, the audience are pretty close…
HEATHERS LUNCHTIME POLL: question from @bwaytrash: If you inherit five million dollars the same day aliens tell the Earth they're blowing us up in two days, what would you do?
Jamie: Well money would probably lose a lot of its value if the world was going to blow up in two days, so I don't know if it would stretch very far. I'd probably use it to get me and my family/friends out to the top of a mountain somewhere have one last big blow out and watch the alien destruction from on high!