The Geneva Convention of Human F**Ks
Trigger warnings The play contains themes and tackles issues that some people may find uncomfortable viewing such as sex tourism, sex trafficking and #MeToo. The play contains some bad language and descriptions of sexual acts.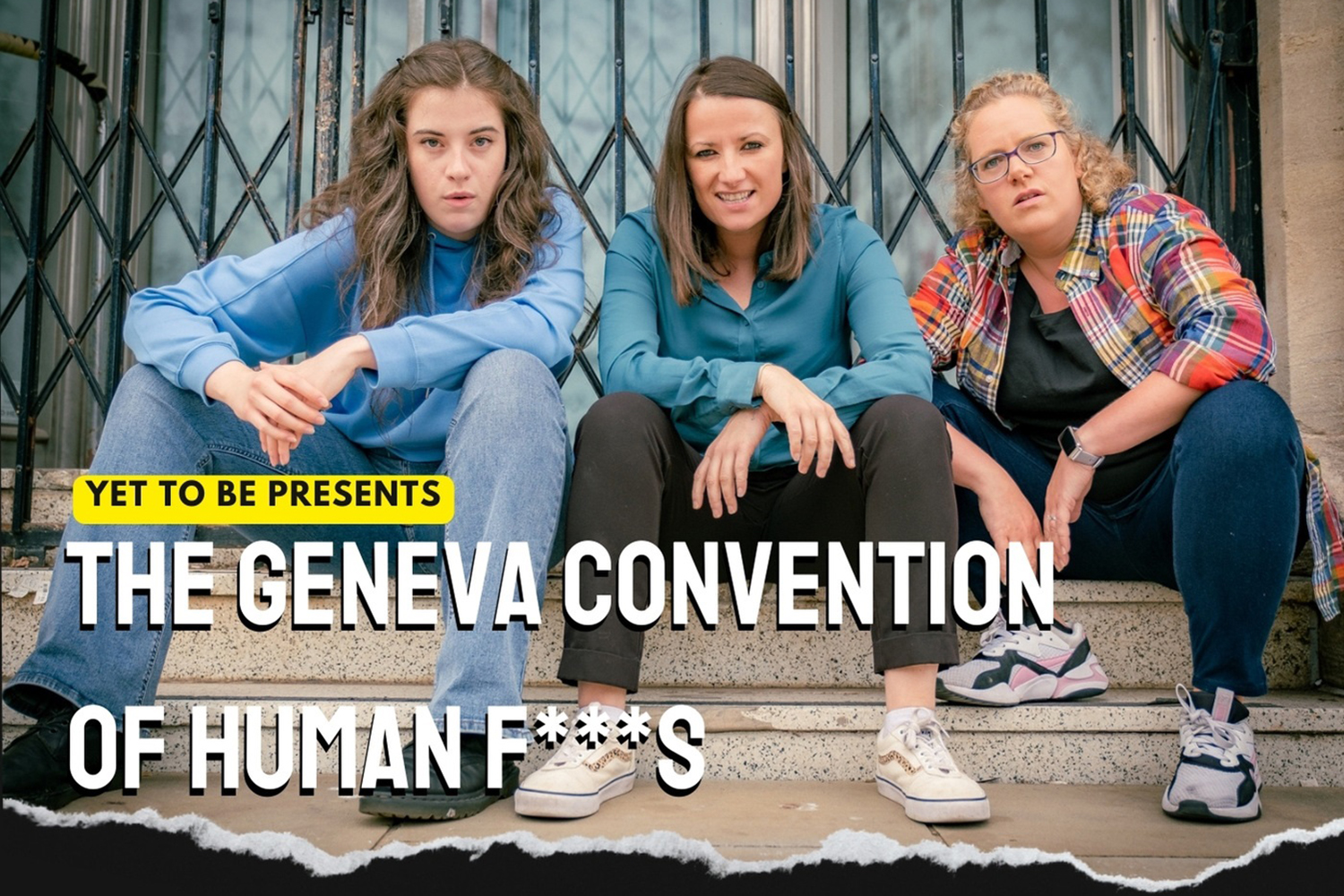 The Geneva Convention of Human F**ks takes us on an unforgettable journey with three men embarking on their latest adventure across Europe.
This captivating story unfolds just before the outbreak of COVID-19, introducing us to Michael, Liam, and Peter as they delve into a world of brothels, encounters with prostitutes, and the discovery of unconventional sexual experiences. Amidst their exploits, the trio grapples with complex ethical dilemmas, including the contentious topics of prostitution, the #MeToo movement, sex trafficking, and even global warming.
Presented exclusively by a talented ensemble of women performers, this thought-provoking production alternates between humour and discomfort, delving deep into the realms of toxic masculinity, sex tourism, and the enduring bond of friendship among these three individuals. Written and directed by Charlie Whitworth, co-founder of Yet To Be, this ground-breaking show marks the debut of Yet To Be, a visionary initiative dedicated to crafting original, impactful, and engaging theatrical experiences for its audiences.
"Yet To Be have put humanity in and on these shells of people and in doing so they have staked a claim that they are ready to explore unique storytelling and uncomfortable territory. The Geneva Convention of Human F**ks is bold, jarring, physical and questioning.
Yet To Be have entered the building." 
The People's Republic of South Devon
Director: Charlie Whitworth
Presented by Yet To Be
Cast:
Estelle Buckridge
Cerys Phillips
Marina O'Shea
Photo credit: Primrose Bigwood Photography
Photo credit: Primrose Bigwood Photography
Photo credit: Primrose Bigwood Photography
Photo credit: Primrose Bigwood Photography
Photo credit: Primrose Bigwood Photography
Photo credit: Primrose Bigwood Photography
Photo credit: Primrose Bigwood Photography
Photo credit: Primrose Bigwood Photography
Photo credit: Primrose Bigwood Photography
Photo credit: Primrose Bigwood Photography
Photo credit: Primrose Bigwood Photography
Photo credit: Primrose Bigwood Photography
Photo credit: Primrose Bigwood Photography
Photo credit: Primrose Bigwood Photography