Heathers The Musical – BIG FAN DAY
learn choreography,
candy store

12:30

pm
Q&A 1: Lisanne Falk (Original Film Heather McNamara) and Paul Taylor-Mills

1:15

pm
Learn vocals, beautiful

2:00

pm
Q&A 2: Ailsa Davidson (Veronica) and Mhairi Angus (Martha)

2:45

pm
Quiz led by Daniel Robinson (Kurt's Dad) and Oliver Brooks (Ram's Dad)

4:15

pm
Q&A 3: Jasmine Beel (Heather McNamara), Maddison Firth (Heather Chandler) and Vivian Panka (Heather Duke)

5:00

pm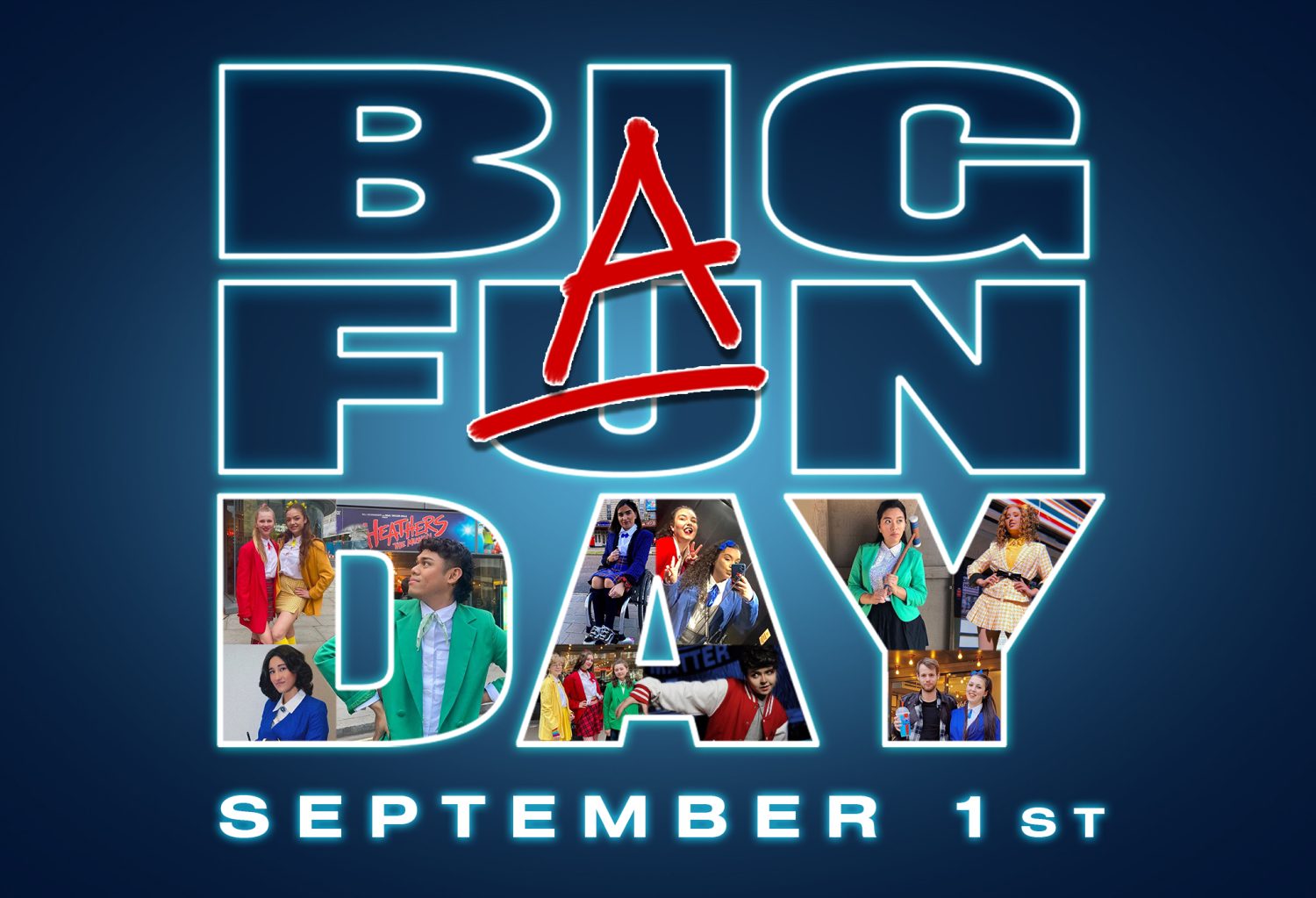 ---
ALL EVENTS ARE FREE, BUT PLEASE MAKE SURE YOU BOOK A TICKET TO EVERY SESSION YOU'D LIKE TO ATTEND!
September 1st. Dear Diary, it's time for the BIG FUN FAN DAY for Heathers the Musical at the Other Palace.
The school bell is ringing and the CornNuts are being called, not to class, but to a day of Big Fun – and it definitely will be Beautiful! So, grab your diaries and mark the date as The Other Palace has a lot planned on 1 September.
Full Schedule:
12.00pm: Welcome
The school bell has rung! Meet your fellow classmates and find out all about the day, photos opps, giveaways and more!
12.30pm: Learn Choreography
Honey, what you waiting for? Step into our Candy Store and learn choreography with Jasmine Beel* (Heather McNamara), Maddison Firth* (Heather Chandler) and Vivian Panka* (Heather Duke).
1.15pm: Q&A 1: Lisanne Falk* (Original Film Heather McNamara) and Paul Taylor-Mills*
Hop into our tiniest lifeboat as we set sail on our first Q&A of the day! Join the original Heather McNamara herself from the cult classic movie, Lisanne Falk, along with our faculty's own Paul Taylor-Mills.
2.00pm: Learn Vocals, Beautiful
You hope, you dream, you pray… and you get your way! That's right, now you can learn how to sing Beautiful with our vocal workshop.
2.45pm: Q&A 2: Ailsa Davidson* (Veronica) and Mhairi Angus* (Martha)
BFFs Veronica and Martha invite you and your BFFs to join them! Put your questions to Ailsa and Mhairi in this Q&A.
3.30pm: New Cast Announcement
It's official: we will be announcing our brand-new classmates on September 1st! And YOU can find out first! Grab your phones – and get ready to record some Heathers history!
4.15pm: Quiz led by Daniel Robinson* (Kurt's Dad) and Oliver Brooks* (Ram's Dad)
It's quiz time! Get your team together as we test you on all things Heathers, 80s and more! Will you be top of the class? Or will Veronica have to forge your report card?
5.00pm: Q&A 3: The Heathers – Jasmine Beel* (Heather McNamara), Maddison Firth* (Heather Chandler) and Vivian Panka* (Heather Duke)
Have a question for the Heathers? Crave a boon? Now's your chance to put it to them in our final Q&A of the day!
5.45pm: Cosplay Pics
School photos? How very (exciting!) Get ready our big group photo!
6.00pm: End
*Cast and creatives access is subject to availability.
Throughout the afternoon there will be photo opportunities with current and past cast members, giveaways, and the chance to become truly a Heather by making your own scrunchie.
Cosplay not only welcomed, not only encourage…but essential – we want to see your best blazers on and signature black trench coats.