Trigger warnings Parental bereavement, terminal illness, grief, strong language, sexual references, reference to sexual assault.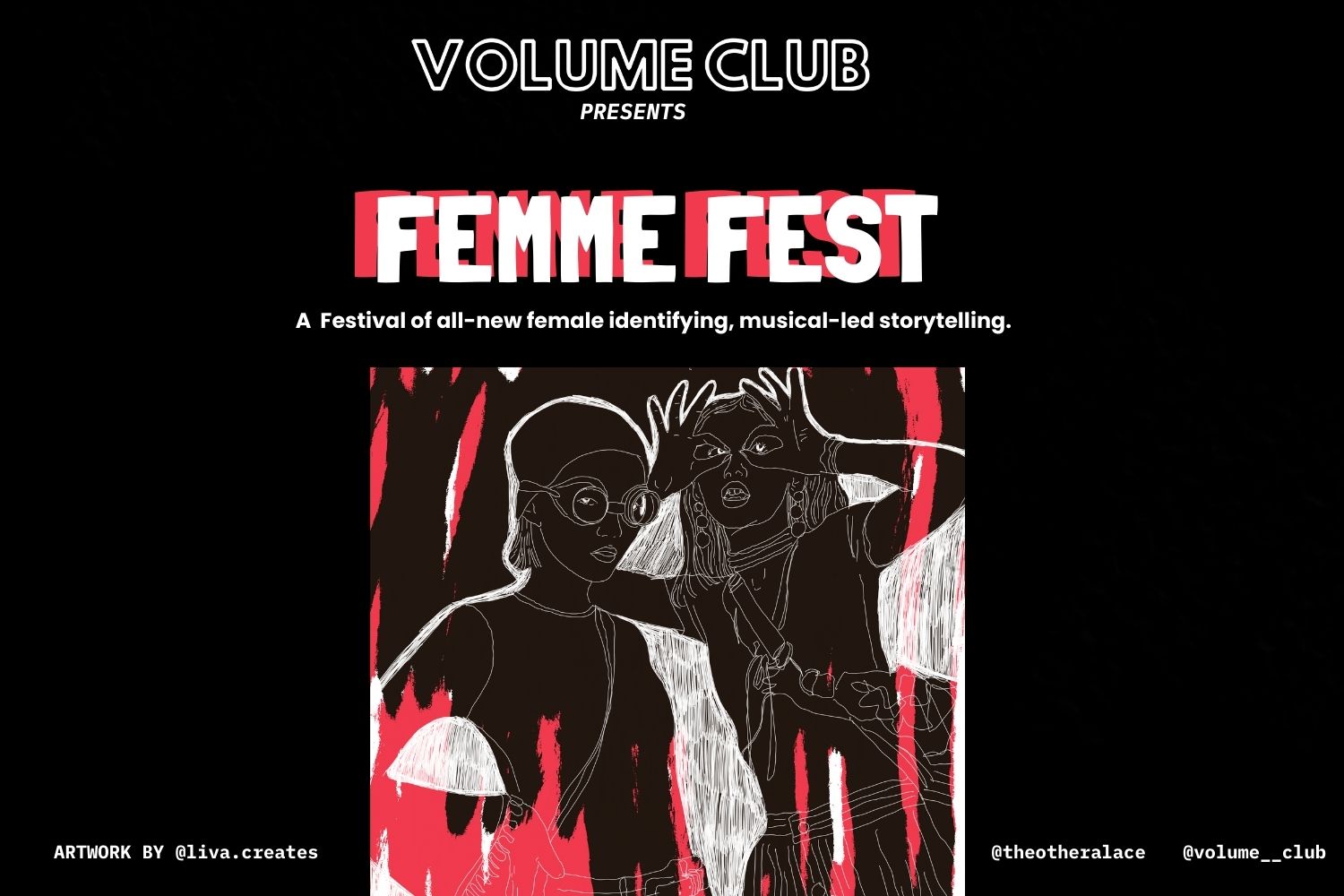 Volume Club Presents in association with East 15 & The Other Palace.
Femme Fest, a one-day festival of all-new female-identifying, non-binary-led storytelling with a musical headliner El Viaje. With three festival-fresh femme shows. Volume Club presents a lineup of three incredible female-identifying and non-binary stories-with-music plays.
El Viaje
Written and performed by Oceana Bertino-Kavadellas.
Musicians Grace Bowen & Sophie Faurie
Directed by Lewis Maines.
A remarkable story told by one woman and her guitar.
Oceana Bertino-Kavadellas takes us on an exciting journey as she recounts her family's extraordinary history. From her Bisabuelo, fighting in the Cuban rebellion against Fulgencio Batista's regime, to her Abuela's incredible journey: escaping a dictatorship, achieving academic success, and becoming a prominent advocate for refugees. This is a powerful show that makes us question just what is worth fighting for.
Getting it wrong
Written by Konstancja Kendall
Directed by Imogen Dowding
Performed by Eve Von Elgg
A walk down the avenue of grief, faltering, and getting it wrong. F**king up at the worst possible times, telling vulgar jokes and learning to hold your own hand. In this one-woman show, we follow Sloane as she searches for pockets of happiness in the murky depths of mourning. All the while doing the very human thing of laughing in the face of insurmountable tragedy
Contained
Written and performed by Imogen Dowding
Directed by Sophie Faurie
Genuine girls' bathroom sh!t. You've just walked in on your best friend's crisis. She really makes you think what kind of woman you are and what that means. Are you part of the problem or just the product? It's not a play about feminism. It's a play about the female experience — the experience that not all females are talking about. It's playful, provocative and proud, all with its pants pulled down.
OFFER: book your tickets for Femme Fest and  Oubliette and get both shows for just £10 each. The discount is automatically applied when you add the tickets to the basket.
CAST
Oceana Bertino-Kavadellas
Imogen Dowding
Sophie Faurie
Konstancja Kendall
Lewis Maines
Eve Von Elgg